Education & Training Sub-Committee 2015-2017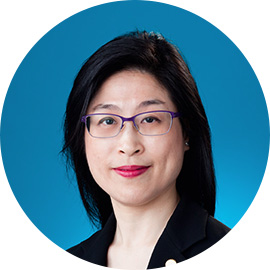 Director of Education & Training Sub-Committee
Ms. Irene Leung
Bossa Jewelry Ltd
Professional Training and Education
Seminars and Training Courses

In respond quickly and flexibly to rapidly changing markets and environments, HKJMA has organized a variety of seminars & site visits to enhance jewelers' professional knowledge:

Jewelry Industry Insiders Sharing Session
Gem-A Course 'understanding' workshop
Visit Luk Fook's China Gems Laboratory Ltd & National Gemstone Testing Center (NGTC), Shenzhen
Gemmology Workshop – A Touch of Synthetic Stones for Jewelry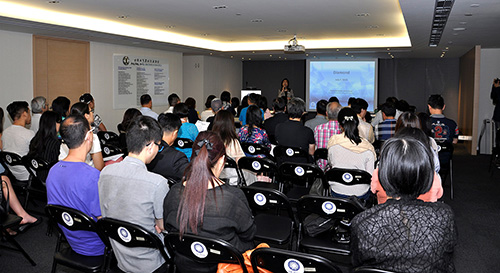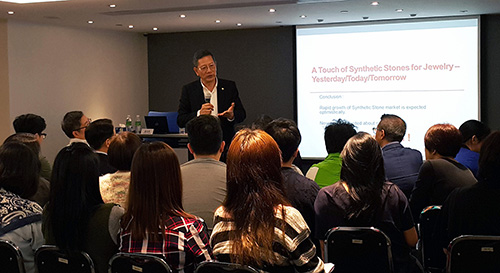 Professional Jewelers Accrediting Programme (PJA)

Entrance level covers topics on the operation system of the jewelry trade including: Jewelry Design, Jewelry Photography, Gem Identification, Production, Costing, Marketing and Brand Management.
Jewelry Design & Drawing Techniques (Elementary, Advanced & Higher Level)

The programme is from elementary to advanced levels. It aims to enhance the competence in jewelry design concept and drawing techniques. Through theory and practices, candidates are able to present design concept with technique learnt from material realization, design composition and coloration.

Professional Certificate in Jewelry Photography (Elementary)

Learn the basic jewelry photography technique and experiment through practices, candidates may learn how to capture the Light and shadow, composition, and photographic angle to capture the feature and beauty of jewelry.

Gem-A Foundation Certificate and Diploma in Gemmology

The course was launched by The Gemmological Association of Great Britain (Gem-A) FGA Gemology. With completion of Foundation Certificate and Diploma in Gemmology, candidates could achieve an international recognised qualification in gemology and become the fellow member of The Gemmological Association (FGA).

Education & Training Sub-Committee 2015-2017
| | | |
| --- | --- | --- |
| Director | Ms. Irene Leung | Bossa Jewelry Ltd |
| Deputy-Director | Mr. George Mak | Edelweiss Jewellery Co Ltd |
| Committee Members | Ms. Rendy Ng | Bee's International Group Ltd |
| | Mr. Victor Yiu | Brilliant Trading Co (1974) Ltd |
| | Mr. Ricky Lam | EJI O/B Elegance Jewellery Int'l Ltd |
| | Ms. Ridy Suen | Gold Source Jewellery Ltd |
| | Mr. Felix Chan | Grandvas Trading Ltd |
| | Mr. Raymond Ho | Imperial Jewelry Manufactory Co Ltd |
| | Mr. Louis Lo | Inter-Pacific Holdings Ltd |
| | Mr. Tommy Tsui | Luk Fook Holdings (Int'l) Ltd |
| | Mr. Albert Hui | Octagon Jewellery Co Ltd |
| | Mr. Peter Lam | Peter Lam Jewellery Ltd |
| | Mr. Sunny Tam | Soft Technology Ltd |
| | Mr. Sunny Chan | Sunny Creations Ltd |
| | Ms. Lydia Kwan | Universal Jewellery Co Ltd |
| | Mr. Keith To | WCJ International Ltd |