Chairwoman Speech
I would like to express my sincere gratitude to be elected as the chairwoman of HKJMA for 2021-2023. I am deeply honoured for this appointment and it is indeed an immense responsibility to serving the industry and fellow members.

2020 was an extraordinary year for HKJMA as the COVID-19 pandemic forced us to completely change the way we do business and a challenge that our industry never encounter before. Everyone works hard in order to cope with the pandemic and the COVID-19 has sparked us to rethink the flexibility and changes of risks into opportunities in a post-pandemic world.

In my term of office, I shall do my utmost with humility to implement the mission of HKJMA. I shall take a pragmatic and proactive approach to lead the team to overcome difficulties and revive our industry in the long run. In addition to enhancing our existing projects, we shall strengthen the area of digitalization, value creation to promote the sustainable development of our industry.

The COVID-19 pandemic has affected global economies for over one and a half years, causing a heavy blow to many businesses, especially the jewelry and exhibition industry. The international and geopolitical tension also pressurized us more often and I am deeply gratified that industry peers are not responding in a fear or retrieve way, instead of a more reorienting and adaptive manner to move forward. The epidemic changed the traditional consumption pattern, fostering the internet transactions and thus, we should keep up with the emerging trend of digital business operation.

More widespread vaccinations are leading the global economic recovery and we witness the exhibition and convention business restarted again; it offers hope for us. I would like to express my heartfelt gratitude to our team for their endeavours in making our JMA Show happen in such unprecedented times. JMA Show was the only jewelry show successfully held in Hong Kong last year. We shall carry on this sourcing platform with new elements to ensure unique experiences for our visitors. We are facing uncertainties in a foreseeable future and we need to plan ahead for a firm foundation so that we could strive to provide more opportunities for members.

Besides closely monitoring the China – US trade and political disputes; we shall focus the latest development of the ASEAN and the Greater Bay Area of China, especially its favorable policies and supportive measures on trade business. We shall maintain close connection with overseas entities for new business collaboration.

Shortly after the trial run of J-HUB last year, we shall increase our efforts into promotion, covering J-HUB's four aspects, namely 'Hong Kong Design', 'Practical Jewelry Knowledge', 'Excellent Craftsmanship' and 'Mass Certification'. For certification, we shall provide affordable service aiming to reinforce consumers' confidence in buying jewelry. We anticipate by providing state-of-the-art facilities and a range of services to help nurture newcomers and support start-ups, J-HUB is expected to be the cradle for the growth of Hong Kong young jewelers, and to continue the motto " Hong Kong Jewelry, Global Brilliancy".

During the tempestuous 2021, we need to unite and proceed jointly towards our goal and I trust we are capable to achieve a bright and rewarding future.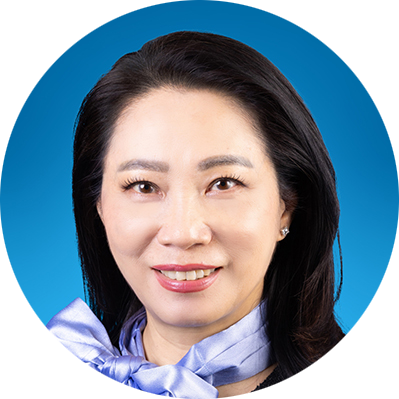 Ms. Bronia Yip
Chairwoman (2021-2023)
Hong Kong Jewelry Manufacturers' Association